Seoul, Korea, July 12, 2022, ZEXPRWIRE, Recently, technology has played a critical role in assisting companies in developing and capitalizing on new business models. Budgets and the investment process are undergoing strict scrutiny as the role of technology shifts. But right now, this new technology is ripe for evolution.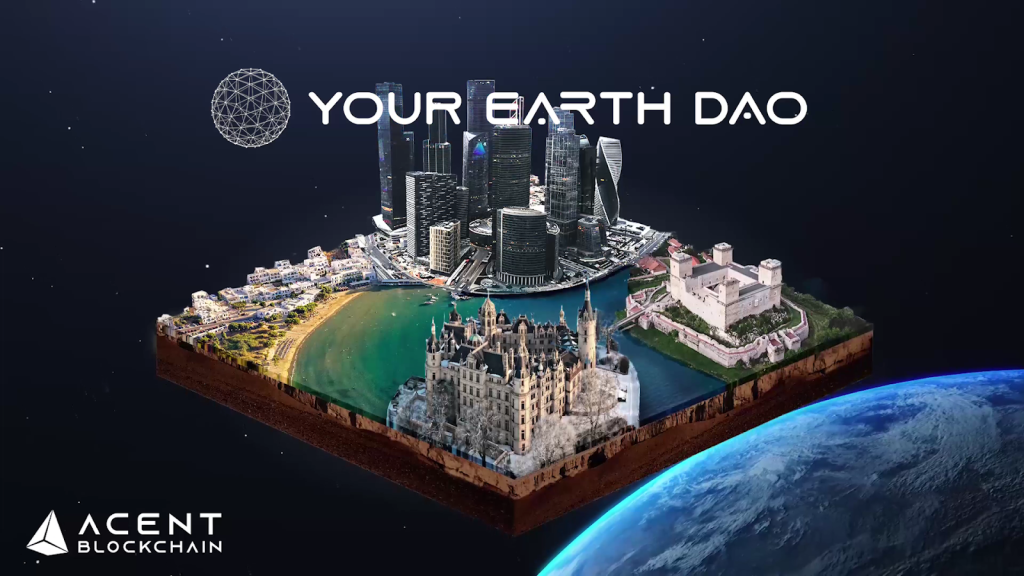 In metaverse trends, the backbone of every competent NFT land and universe is an enormous technological company. 
Many existing social-fi aims to bring the virtual world to real life, bringing more connections and new users.
But most of them place a foundation block for passive income in virtual reality.
Various multi-metaverse are now being sold at very high prices, creating a negative feeling for newcomers to investing.
Your Earth DAO aspires to be a pioneer in deploying parallel reality simulated metaverse applications for industrial-grade products. 
In the past, investment trends are the options such as mutual funds, stocks, real estate, etc… with higher returns in a short time. In visual estate, we have the Sandbox, Decentraland,… . However, these game investments may confront enormous difficulties due to their large capital requirement. To deal with obstacles, fractional ownership of YOUR EARTH DAO (YED) metaverse in real estate has been successfully applied to raise more opportunities for investors with small capital. 
Blockchain technology in real estate allows various investors to invest in substantial real estate properties by utilising innovative tools. As We, Your Earth DAO , have transformed the operation of old methods and have opened up more competent means for your assets' transactions. Especially, fractional ownership of blockchain platforms brings numerous benefits for sellers and buyers smoothly.
Democratize Real Estate Investment
Due to blockchain technology in real estate, excellent projects may acquire funds more easily, quickly, and at a lower cost. Investors benefit from greater liquidity on their investments and the ability to get access to previously unattainable assets.  Investors are excited to expand their investment to generate wealth. Tokenization democratizes investment options today and in the future. 
Understand the potential; YED will begin selling land in Acent City in batches. Each plot of land purchased can mine EDAO, including Zero-point Energy Pylon (ZEP) NFTs. A ZEP is an NFT that can generate digital electricity or energy on its ground and use it to power meta-real estates all over the meta web. In the future, ZEP and digital electricity may be traded as commodities on the Acent DEX.
Profitable Commercial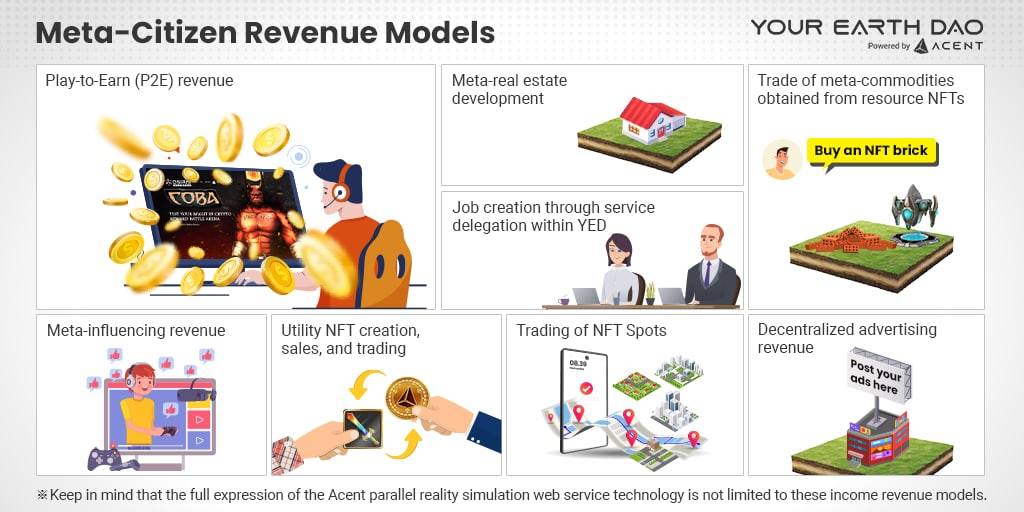 The Acent Core Ecosystem Development Fund is also accessible through the YED. Unlike the Web 1.0 architecture, its implementation allows meta-citizens to experience the new immersive web without the previously enforced mass exploitation of labour from its users by big tech entities; ensures all meta-apps deployed on the meta web are operated by DAOs and prevents consentless misuse of personal data for malicious profiteering and manipulation of data feed algorithms. This will be achieved by funding DAO proposals that cross the testing procedure and have the potential to influence or improve the meta-web ecosystem.

Trade land spot at any NFT marketplace for a profit (long-term investment);

Pledge $ACE to gain an APR of 13% on the first year of pledging, 8% on the second year of pledging, and so on;

Receive an equivalent EDAO token incentive for every $ACE value of the land;

Pledge EDAO token to gain $ACE from the UBI pool and up to six years incentives from the Metaweb Incubation Fund;

Mine digital electricity from Zero-point Energy Pylon (ZEP) NFT and other meta-resources from other Pylons;

Trade EDAO and meta-resources such as ZEP's digital electricity on Acent DEX;

Governance rights;

Rent out the land as the traffic builds; and

So much more.
Validate real estate transactions
Full compatibility with decentralized applications (dApps) from other chains enables users and developers to import Ethereum-based dApps into the Your Earth DAO metaverse. Users can develop their own NFTs and deploy them on the metaverse platform without changing their development environment.
Fee reductions — Because Acent's Nitro fees, similar to Ethereum's gas fees, are relatively low in Layer 1 solutions, users can enjoy value exchanges of their digital assets and NFTs as frequently as they want without incurring financial costs.
Fewer validators mean faster transactions — Acent's unique Proof of Staked Authority (POSA) consensus mechanism validates the chain as it enters blocks with only a few validators. As a result, it will have lower transaction fees and one of the most stable and fast Layer 1 solutions on the market.
Reduces issues with scalability — With no transaction fees, the Acent blockchain will be able to process NFT and crypto exchanges at a higher but stable 400-500 on-chain TPS and 300,000 digital TPS (DTPS). This outperforms the Ethereum chain, which averages only 17 TPS.
Encourages Decentralized Autonomous Organization (DAO) — DAO is a Layer 1 feature of Acent blockchain technology that allows Your Earth DAO users to vote on issues (large or small) that may affect or improve the platform's governance.
Conclusions
Innovative technology like the YED is driving the real estate market to a new stage. Fractional Ownership of blockchain in real estate lowers investment costs and allows everyone to invest in high-value property with a smaller investment. Building up an intelligent ecosystem for a real estate property, primarily commercial real estate, blockchain technology has further enhanced the demand for this market, simplified the procedure, and offered promising potentials with rental income. 
For more details and information about the benefits and privileges of being part of the metaweb, read the Acent Whitepaper 2.0.
Don't forget to join the Acent community for further information about the upcoming YED land sale.
For more updates, please follow us on:
Website:https://yourearth.io/
Twitter: https://twitter.com/Acent_tech
Instagram:https://www.instagram.com/acent_official/
Facebook: https://www.facebook.com/FBACENT
Discord: https://discord.com/invite/et2fZJWGge
Telegram: https://t.me/AcentOfficialChat
Announcement channel https://t.me/AcentChannel
Media Contact:
Accent Tech
The post Into novel benchmark of Real Estate – The FREE GUY world appeared first on Zex PR Wire.
Information contained on this page is provided by an independent third-party content provider. Binary News Network and this Site make no warranties or representations in connection therewith. If you are affiliated with this page and would like it removed please contact [email protected]